AA's Digg Digg Alternative WordPress Plugin
I recently released an alternative to the popular Digg Digg social toolbar called Digg Digg Alternative. I released this plugin via Android Advice & Tutorials since that was one of my sites that needed the faster lightweight social floating toolbar. I developed the toolbar to make it easier not only for me but others that didn't want to install such a large plugin as Digg Digg but still wanted all of the sharing features that they require. The toolbar is largely developed in conjunction with community requests and needs in mind. If you visit the support forums for the toolbar you will notice that much of the community input has already been added to the WordPress plugin.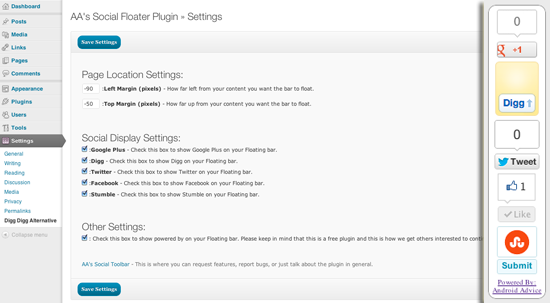 What is Digg Digg Alternative?
Digg Digg Alternative is simply what the title states, its an Alternative to the popular Digg Digg WordPress plugin. There are a few differences though with the major being the fact that it uses much less code to accomplish the same outcome. Another difference that you will notice is that there is only one page of settings that are easily understood even for your basic WordPress user.
What are the benefits to using Digg Digg Alternative?
Much faster load time than others of its kind (SEO benefits to this as well as better user experience)
Cleaner SEO Friendly code (using clean tags and styles helps with creating a faster load and better code/content ratio)
Substantially less code (using less code improves load speed and code/content ratio)
Much easier to customize (even novice WordPress users can customize as needed)
Less settings to run through to get it working (have it up and running in just a few minutes)
How to Install AA's Digg Digg Alternative Social Share Bar?
Upload the plugin to the '/wp-content/plugins/' directory
Activate the plugin through the 'Plugins' menu in WordPress
Choose your options via 'Settings -> Digg Digg Alternative'
Those of you that are already using the toolbar, thank you. For those of you that aren't you should at least check it out and compare. If you do use it and like it please consider rating it via WordPress (of course I appreciate 5 stars). If you do have any requests for features or bugs to report then please leave them here via comments or in the WordPress support forum for the plugin.